WUH_Cargo Supervisor
(武汉_货运主管)
职位描述
Job description
Notes:
All Chinese mainland based positions are subject to local terms and conditions.
Applicants must have the right to live and work in Chinese Mainland. We are unable to assist applicants with visa or work permit applications.
Once employment is confirmed, the employment contract and personnel file will be arranged through local FESCO/ FASCO.
Role Introduction
To execute the commercial strategies for the port in order to surpass revenue targets and commercial Key Performance Indicators as well as to deliver service excellence, ensuring full compliance with company and regulatory requirements and safety and operational standards.
Key Responsibilities
Revenue Generation
-Implement the Cargo Business Plan in full alignment with local cargo strategies and specified Key Performance Indicators
-Conduct regular reviews of revenue performance to take actions where revenue is behind budget
-Generate revenue with perspective of sales channels, product sales and offline sales development with hunting for new revenue streams, routes,
frequencies, ancillary charges
-Negotiate and execute sales contracts to ensure active management of capacity to maximise flight revenue
-Regular updates internally on key local cargo market information and changes in the competitive landscape
Coordination with Operations
-Ensure that accurate booking lists for Cargo Terminal Operator are prepared in in timely manner to execute flight planning and pallet build up plans
Customer Services
-Ensure that customers' enquiries and off-line booking and e-booking requests are responded to in a timely and professional manner
-Maintain day-to-day relationship with stakeholders from all sales channels for revenue generation purposes
-Provide superb sales and customer services in all customer touch points so as to drive premium selling rates and regular business
-Champion products and provide excellent and consistent product solutions
Efficiency Improvement
-Support regional cargo team to implement programmes on e-initiatives to drive penetration of e-functions as well as recommendations for improvements
Financial Risk Management
-Manage credit risks with reference to relevant internal guidelines/IATA local financial criteria where applicable
Partnerships and External Liaisons
-Assist to establish / manage relationships with shippers, key industry and trade partners and associations to present Company interests
-Ensure the recognition and loyalty earned from our highest value customers
Services Delivery and Excellence
-Assist to develop and lead to implement and monitor the Cargo Servicing Plan, including supervision of customer service, the operation of the handling agents, and report performance and status both qualitatively and quantitatively
-Drive operational excellence with contracted vendors by managing KPI and service levels
-Ensure compliance and conformance to established regulatory policies and procedures and requirements
-Perform regular quality checks, and completion of proper paperwork, providing feedback to respective stakeholders and work to resolve any problem areas identified
-Support the execution of cargo service delivery strategy
-Liaise with all port, regional and corporate stakeholders, local various authorities, government agencies to ensure proper communication is maintained and focus areas are aligned
-Ensure that new customers receive assistance and coordination as required to safeguard smooth cargo movements
-Develop/Implement the operations plans/training to optimise booking for space and weight utilisation with respective stakeholders
-Control and manage the Unit Load Device inventory level to meet the demand, perform regular quality checks
-Any other reasonable task as requested
People Development and Performance Management
-Lead, support and encourage own team to achieve success by building a strong and motivated team spirit and teamwork and enhance the employee experiences
-Demonstrate leadership and lead by example in Cathay core values and maintain active dialogue to employee goals and performance
Operational Duty Holder
-Be accountable at an operational level for the safe operation of services
-Maintain day to day responsibility for managing operational performance, including the performance of suppliers who are contracted to deliver services to ensure the full compliance /procedures / the service as contracted terms
E&A
-Emergency and Accident and Crisis Response responsibilities as required
Requirements
Academic qualifications
College degree or above
A qualification in Cargo or logistics in an advantage
Knowledge, skills, training and experience
A minimum of 4 years' experience in cargo operations, cargo sales or cargo customer service
Supervisory/management experience of third party handlers
A proven success record in setting and achieving personal and team goals and targets
Knowledge of CHAMP CargoSpot System
Demonstrably strong communication skills
Proven ability to work independently
Demonstrable success in decision making
Superior administrative skills
Sound knowledge in air cargo warehousing operations
Sound knowledge of TSA safety and security requirements
Knowledge of air cargo computer/AIRIMP system and cargo build-up
Knowledge of air cargo tariff and Air Cargo and Tariff Rules
Knowledge of air cargo Dangerous Goods acceptance is an advantage
Familiarity with aircraft weight and balance procedures
Adapts to change easily
A valid Driver's License and clearance to operate a company vehicle
Personal & Application Information
Cathay Pacific is an Equal Opportunities Employer. Personal data provided by job applicants will be used strictly in accordance with our personal data policy and for recruitment purposes only. Candidates not notified within eight weeks may consider their application unsuccessful. All related information will be kept in our file for up to 24 months. A copy of our Personal Information Collection Statement will be provided upon request by contacting our Data Protection Officer.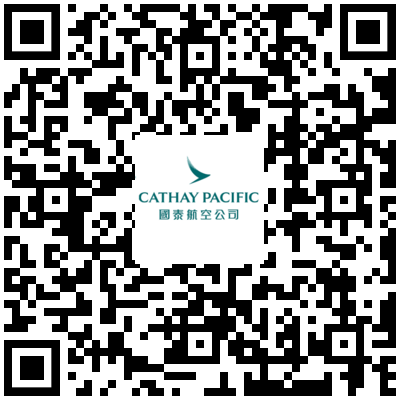 (请扫描二维码申请职位)